DPJ's Wire series delivers news and information straight from the source without translation.
The Global Day of Discovery is a multifaceted activation event that happens throughout the hotel featuring beverage and food from the Renaissance, a live mural on the outside of the hotel, live artists painting throughout the lobby, coffee demonstrations and education, cooking demo with our Executive Chef featuring local ingredients, all day drink specials at ICON Lounge, local celebrity DJ William Reed, and separate live musical performances from Parker Morden.
114 properties participating, 18 countries, 5 continents
The main attraction of the day will be the mural that is being painted on the hotel itself by Hugo Medina which will take place in the alley between Adams and Monroe that is nestled between 1st Street and Central. The mural itself will be an image of weathered hands cupping the planet Earth. The concept behind the image reflects the core values of the Renaissance Brand as a whole, the idea that the world is in each of our hands as well as the notion that we are bringing the world to you by provoking discovery and encouraging each of our Ambassadors and every single Discoverer to explore the different communities and cultures that each of us help to make up. What better way to encourage enlightenment, than by bringing you the world?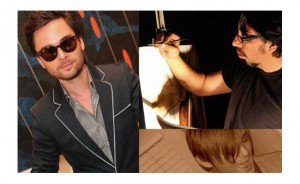 When:
The Global Day of Discovery takes place on Wednesday, June 19th from 5am to Midnight along-side the other 114 participating properties around the world.
Where:
Renaissance Phoenix Downtown
50 East Adams Street
Phoenix, AZ 85004
T 602.333.0000 F 602.333.5181  Facebook
Why:
To highlight what it is we do every day, provoke discovery. To bring people together in order to showcase the talented gems of downtown Phoenix in one place at one time and build relationships that if not for the Global Day of Discovery, may never have existed.
Becoming a part of the, "Mural Movement" is an opportunity to show the world that the Renaissance is living up to its name and values. The Mural Movement is a world-wide, underground phenomenon that is promoting the health and wellness of the communities it is active in. Murals give rising artists opportunities just as much as established artists are given, all the while bringing color and creativity to surfaces of the city which stand as constant reminders to its residents that it is okay to follow your dreams and open yourself to discovery.
How:
With the passion, determination and creativity of the downtown community and the individuals who give of themselves every day, to ensure the city we live is a positive and progressive one that will continue to catch the gazes of our partners, neighbors and worldly community.
---