DPJ's Wire series delivers news and information straight from the source without translation.
CO-OPhx Hosts Spring Clothing Swap to Renew Wardrobes and Spirit in Phoenix Community
Five Swaps, 500 Swappers and 2000 pounds of donated items
Spring is the perfect time for renewal and CO-OPhx is hosting their fifth clothing swap and clothing drive to renew guests' wardrobes and spirit in the community.
For over a year now, Kelsey Wong and Karla Rasmusson, co-founders of CO-OPhx, one of the largest networking organizations in the Valley, have been spreading the love for secondhand style and giving back to their community by hosting clothing swap and clothing drive events in Phoenix. The events that benefit local charities like Big Brothers Big Sisters, Fresh Start Women's Foundation, Sojourner Center and Clothing Cycle.
With four swaps under their belt, 500 swappers and over 2000 lbs of items donated, Wong and Rasmusson have planned one of the largest "Spring Swaps". On Sunday, April 21, from 11am to 4 p.m., the front yards of GROWOp, Annie Boomer Vintage and Cellar Door Vintage will be filled with the once-loved clothes of participants for others to swap and take home. Not only will gently used clothes be swapped, but also heartwarming stories of the clothes' journeys between the attendees.
"It's really rewarding to see Phoenix coming together. Locals are really craving new ways to connect and be a part of something. Our events are different than your typical guest and entertainer, they are interactive. Every attendee gets to engage," stated Kelsey Wong, Executive Director, CO-OPhx.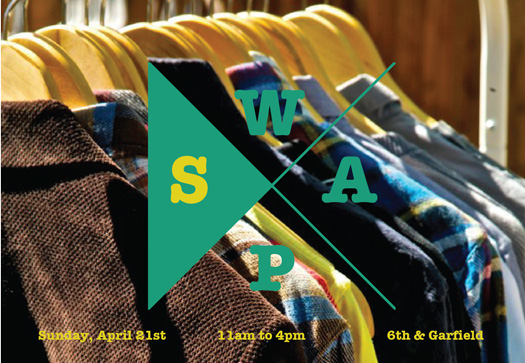 This time around it's not just the clothing exchange swappers are excited about. "We've learned a lot from our past events, we've streamlined and cut out the excess. The swap itself is the main event, but now there are separate men and women's swaps. At past swaps, the women outweighed the men. We're trying to balance the scales, plus it's not really fair to the guys," said Karla Rasmusson, Co-founder, CO-OPhx.
CO-OPhx isn't stopping at the swap, there are four style tutorials from local boutique owners including Amir from Amir La Voute, Ashley Eaton from Merry May Shoppe, Joshua Hahn from GROWop and Adrian Leisong of Superstition Vintage. Swappers will learn a little bit of everything from how to tie a bowtie to how to shop vintage. If that wasn't enough, swappers will also get to test out their craftiness with do-it-yourself upcycling booths and of course vintage shopping at the three host stores.
"We love what the clothing swap team is doing to bring fresh faces to the area and show locals that not only is downtown Phoenix community a cool place to be, but that there is a budding vintage district and treasures to be found," states Joshua Hahn, Owner, GROWop boutique.
After the day of community and fashion, whatever items are not swapped will be donated to ClothingCycle, a non-profit that recycles or reuses 100 percent of items regardless of condition.
"Clothing Cycle is excited to participate in the Spring Clothing Swap because all items donated will be reused or recycled. Every organization we partner with gets paid for every pound collected and 100% of the items will be kept out of landfills," says Laurie Quartermain, Operations Director, Clothing Cycle.
"Phoenix is all about rebirth and revitalization. We are doing that for clothes and for people's spirits. That feeling of renewed confidence is priceless," stated Wong.
Tickets are $10 online, $15 at the door. To register for tickets, swappers can visit swapphx.splashthat.com.
About CO-OPhx:
Founded by Kelsey Wong and Karla Rasmusson in February 2012, CO-OPhx is an organization of inspired individuals with a mission is to foster meaningful connections and build community in Phoenix through fashion, art and food events.
---