DPJ's Wire series delivers news and information straight from the source without translation.
Community Involvement Crucial to the 4th Annual Grand Avenue Festival October 20, 2012
The community is an important component to this year's Grand Avenue Festival on October 20th. Opportunities for involvement range from contests to creative callouts for artistic projects and local vendors wanted for participation in the Coffee, Cookies & Crafts event. Several events are centered on community participation and a celebration of the vibrant culture, art, history and adaptive re-use of the Lower Grand Avenue Arts and Small Business District and adjoining neighborhoods. Here's what you can get involved with during the festival:
Coffee, Cookies & Crafts
The seventh Coffee, Cookies & Crafts indie craft fair will be held in the Bragg's Pie Factory parking lot from noon to 5 pm on the day of the Grand Ave Festival (October 20, 2012).  The craft fair will offer a variety of activities including 40 local vendors selling handmade goods, crafting demos, a craft supply swap, and other fun activities for the whole family.  Attendees will be treated to a pop-up lounge with free coffee and sweets from local bakeries.  Some additional vendor spots are still available. Interested local vendors should complete the online new vendor application at www.coffeecookiescrafts.wordpress.com
Trash Hat Promenade
This year, Kooky Krafts has created a fashion event open to the community and prizes, including at $100 gift certificate awarded to "Best of Breed!" The "Trashy Hat Promenade," allows any interested participants to don their gorgeous hat made of trash and recycled materials! There is no entry fee.  Created by Kooky Crafts owner, Beatrice Moore, the event is intended to inspire creativity and fun in our community.  Participants will model their own creations with Grand Avenue as the fashion runway!  Anyone interested in participating should contact Ms. Moore (muppetsrealmom@earthlink.net or 602.391.4016) by October 15, 2012, to apply and make arrangements for show times and delivery.  Visit our festival website for visual inspiration and additional information at:
http://grandavephoenix.com/grand-avenue-festival/call-for-entries-trashy-hat-promenade/
Hanging Gardens & Woven Fences & Trashy Sculpture
The "Hanging Gardens & Woven Fences & Trashy Sculpture" project will once again be a highlight of the Grand Avenue Festival, Oct. 20th from 10am – 8 pm, (After Hours from 8 – 10 pm). There is no entry fee & individuals or organizations will be paired with specific sites. Your masterpiece must be made primarily out of trash or recycled materials; however, a $35 stipend is available from Kooky Krafts Shop for participating youth groups (high school age or younger) for additional supplies such as paint, glue glitter, etc. Stipends will be awarded on project completion. Participants are responsible for set up & break down (in some cases projects may be able to remain for a few weeks with property permission) & projects must be installed by 10 am the day of the Festival. Visitors will receive a map so they can locate each project.
Hanging Gardens:  Projects can consist of actual living garden components or make-believe plants, fantastical vines, whimsical flowers and other assemblages. Your fantastic "gardenesque" creations will be hung from branches or wrapped around tree trunks in a non-invasive fashion (i.e. without damage to trees or existing landscaping). Use of trash or recycled materials as the core element of your project is strongly encouraged.
Woven Fences:  This project can be something actually woven through a fence, attached along the top of a fence, or created in advance and attached to an existing chain link, wrought iron, concrete block or other fence structure  surface. Again, recycled materials are encouraged.
Trashy Sculpture: This year the trashy sculpture entries will be exhibited outside, on the day of the event only, so temporariness and expendability are key. Reduce, reuse & recycle!
If you intend to participate, send the following information to Beatrice Moore at Kooky Krafts Shop; 1500 Grand Ave,; Phoenix, AZ; 85007 or muppetsrealmom@earthlink.net
•    Individual or Group Name
•    Phone number
•    E-mail address
•    Request for stipend if desired (only eligible for high school age and under groups)
•    Basic concept
We need your application as early as possible so you can be assigned the best spot for your project!
Event Volunteers Needed!
Volunteers are needed throughout the day to assist with event management as well as assistance in the days prior to the festival, helping to hand out promotional material and doing the final touches to help make our street "festival ready!"  Any amount of time is appreciated.  Please contact Dani Logan, festival volunteer coordinator, at danilogan0215@gmail.com to indicate your willingness to help.  Community volunteer groups are welcome to participate!  Festival hours are 11 am to 8 pm, with the Historic Tours starting at 8 am on October 20, 2012.
About the Grand Avenue Festival
The G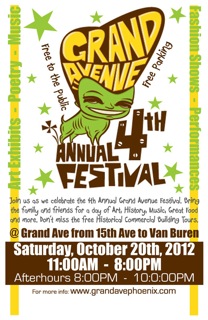 rand Avenue Merchants' Association (GAMA) will be hosting the free 4th Annual Grand Avenue Festival on October 20th, from 11 am – 8 pm, with an After Hours event from 8 – 10pm. The festival will be a celebration of the vibrant culture, music, fashion, art, history and adaptive re-use of the Lower Grand Avenue Arts and Small Business District and adjoining neighborhoods.  Free tours Historic Commercial Building and Adaptive Reuse Tours, begin at 8 am and continue hourly until 11 am, courtesy of the Phoenix Revitalization Corporation (PRC).  Free screenings of "The Greenest Building," shown at the conclusion of the tour are courtesy of Steve Weiss and No Festival Required.  For more information about the 2012 Festival and GAMA, please visit:  www.grandavephoenix.com
The Grand Avenue Festival is being sponsored in part by the Grand Avenue Merchants' Assoc.; Phoenix Revitalization Corp.; Oasis on Grand; Glass Lab Metal Lab; Abromovitz Grand Avenue Partners, LLC; Arizona Pedal Cabs; Phoenix New Times; Dunlap & Magee Property Management.
---