Some news items don't need translation. That's why DPJ launched the From the Wire series, so we could serve the destinations here by posting information and announcements – in their own words.
Weekend Festival Celebrates the Downtown Phoenix Art Scene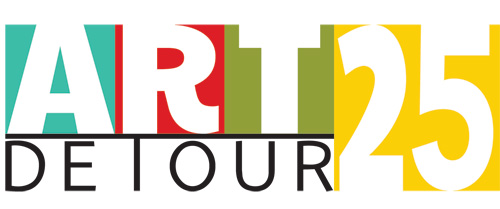 The event that launched Phoenix's First Fridays Art Walk phenomenon is returning to the streets of downtown Phoenix for its 25th year on March 2 and 3, 2013.
The silver anniversary edition of the Art Detour will take a historical look at the downtown arts scene, celebrate the many people who contributed to its success over the years, and recognize the artists, galleries, organizations and businesses contributing to the arts today.
Art Detour 25, organized by Artlink Inc., a 501(c)(3) nonprofit, will coincide with March First Friday, resulting in a weekend chock-full of arts related tours, exhibits and activities. The event is free and offers programming appropriate for all ages.
"Art Detour is one of the most important events in Phoenix's calendar," Mayor Greg Stanton said. "Few events do as much to enrich the lives of Phoenicians and give exposure to local businesses and artists. Twenty-five years is a milestone. It should remind all of us to continue to support the arts so the next generation can experience all that Phoenix has to offer."
Nancy Hill, Artlink Vice President and Art Detour Chair, said this event is the best kind of downtown community celebration.
"We have had extensive conversations with the community and representatives of the major downtown arts districts," Hill said. "There is genuine excitement about the opportunity to showcase what artists have done – and will continue to do – for downtown."
During this festive weekend, visitors can visit galleries and artist studios, take bicycle tours, learn about public art and murals from artist and knowledgeable docents, and much more.
Music and performance art will provide a unique opportunity to explore Phoenix's art scene in a fun, festival environment.
To participate, sponsor or volunteer please visit artlinkphoenix.com or email Art Detour Chair Nancy Hill at nancy@artlinkphoenix.com.
Ed Note: A series of community planning meetings will soon be announced. Stay tuned to Facebook and Twitter for details.
---