Some news items don't need translation. That's why DPJ launched the From the Wire series, so we could serve the destinations here by posting information and announcements – in their own words.
Arizona's Largest Tattoo Convention Inks through the Valley, July 13-15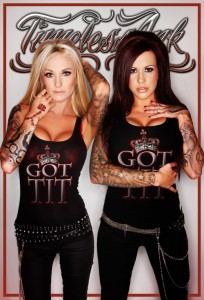 Get inked! The locally-produced Timeless Ink Tour will take place at the Phoenix Convention Center July 13-15 and will showcase new tattoo trends, artistic talent and models in today's inked-up society. Live music will fill the convention center as local rock bands and DJ's perform throughout the weekend. Tattoos and piercing will also be available at each artist's booth.  After Phoenix, the Timeless Ink Tour will be hitting the road to Tucson, California, Boston, New York, Florida, and other states around the country.
The Timeless Ink Tour will provide attendees the rare opportunity to see some of the best tattoo artists in the world all in one venue. Tattoo competitions will take place between artists from all over. Prizes will be awarded in categories such as "Best Color", "Best Black/Grey", "Best Tattoo of the Day", and more. Live music will fill the venue throughout the weekend, along with fun activities for all ages. Guests can also check out a wild performance by local suspension artist Dani Danger.
Timeless Ink Productions is a local company started by a family in Phoenix. After working a tattoo convention in February, Justin and Lacy Dupras decided to start their own tour. The duo became involved in the tattoo industry by creating their own collection of individual tattoos. Lacy Dupras is also involved in the industry as a tattoo model. The Timeless Ink Tour is set out to not only provide a fun and entertaining environment to come out and celebrate the art of the tattoo. The tour wants the community to know that tattoos are not as taboo as some think it to be!
IF YOU GO
Where:  Phoenix Convention Center
When: July 13 – 15. Hours: Friday: 2 p.m. to 11 p.m.; Saturday: 11 a.m. to 11 p.m.; Sunday: 11 a.m. to 9 p.m.
Cost: Single day tickets are available for $25 at the door or $20 presale available online. Three-day passes are $50 at the door or $45 presale. All presale tickets are available through Ticketmaster.
---