As you drive by the monOrchid building on Roosevelt St. you may notice one more bird painted on the exterior wall. That's the logo of the Songbird Coffee & Tea House, which is just a few short weeks away from opening its doors on a planned opening date of Monday, June 18.
While owners Jonathan and Erin Westgate Carroll work on the usual build-out and permitting process, and the fun headaches that come with that, let's look ahead and get a glimpse of their vision for this re-activated space.
Community Focus
Songbird will be located at 214 East Roosevelt St. and the Carrolls are "committed to making Roosevelt Row and the surrounding areas the most talked about coffee community in the state of Arizona." [Worth noting: if you want to stroll to Songbird without stepping outside, contact monOrchid for office or studio space.]
Competition or Synergy?
With Fair Trade Cafe, GIANT Coffee, Royal Coffee Bar and JoBot Coffee Shop nearby, Songbird will be the fifth coffee business within a half-mile radius. The owners view their coffee spot as one more business contributing to the Roosevelt Row community.
Menu Offerings
With a planned selection of coffee, tea, pastries and burritos, Songbird seems set on satisfying a variety of appetites and palates.
The Atmosphere
"Casual and contemporary with an accent of industrial and modern décor throughout." Plenty of electrical outlets are promised as is free Wi-Fi.
Programming
They are planning to take advantage of the open gallery space in monOrchid, offering free movie nights, acoustic music shows of all genres, art displays and poetry readings on random nights. Games and books will be on display/located on the bookshelf for customers.
Timeline and Schedule
Says Carroll, "We're hoping to have our grand opening Monday, June 18. Thus far, we're on schedule, but the 18th is tentative depending on [the permits, etc.]." Hours will be 7 a.m. 7 p.m. to start. Carroll says they will chart the first few weeks to a month and then fluctuate hours based on the results. As with any local business, if we want them to keep those hours, we will have to do your part and go.
Photos by Esther Martinez courtesy of Songbird.
If you go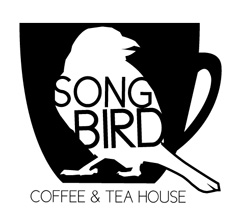 What: Songbird Coffee & Tea House
Where: monOrchid, 214 E. Roosevelt, in the Evans Churchill Neighborhood
When: Scheduled to open Monday, June 18
Hours: 7 a.m. to 7 p.m. to start
More Information: Visit Facebook
---