The grand color field painter, Mark Rothko, and his first major mural commission, the original Four Seasons Restaurant inside the modernist masterpiece on Park Avenue, the Seagram Building, are the staging for this play.  Full scale reproductions of the murals are on stage the entire time. These paintings are powerful. I can, and have, sat with Rothko paintings for a long time.
The 90-minute dialogue between Rothko and his young assistant, Ken are the play. A rich, evocative, muscular play. Grand themes are intelligently and passionately discussed: generational conflict, the meaning of color, the power of non-representational painting to seep into the unconscious, art history debated and lived through in a way that kept me spellbound, and random acts of gratuitous carnage. Art still had revolutionary potential to Rothko's generation.
A tale well told. It originated in London in 2009, the production captured six Tonys on Broadway in 2010, and different productions were seen Saturday night in four different cities – Berkeley, CA, Hartford, CT, Phoenix, AZ and Dunedin, NZ. Phoenix's entry is a production of Seattle Repertory Company, a worthy partner.
Two quibbles about it, though. At one point the sound technician forgot to lower the music volume as Rothko (played competently by Denis Arndt in his Phoenix debut) began a soliloquy. Arndt had to repeat his opening line several times before the music came down. Voices are not amplified, and neither actor consistently projects his voice clearly deep into the balcony seating. So if you go, stay in the orchestra.
If you go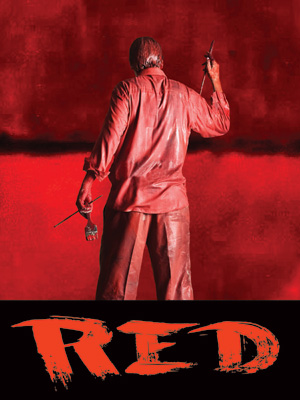 You can leverage your investment in "Red' theater tickets at a number of Valley locations during the production – and "Paint the Town Red!"
Arizona Theatre Company has gathered partners to offer a wide variety of incentives. Two bookstores are raffling off free tickets; District American Kitchen, Coronado Cafe and Gallo Blanco are offering discounts; and several benefits are also available at Phoenix Art Museum and more.
The production runs through May 20. Visit Arizona Theatre Company for details.
---