Want to enjoy the Phoenix winter during the workweek, but can't fit a frisbee into your briefcase or backpack?
Head over to CityScape where they and the Downtown Phoenix Partnership are hosting a lunchtime "Pop Up Park" at Patriots Square. Lunch-goers can soak up the sunshine and socialize with fun – and free – activities each weekday from 11 a.m. to 1:00 p.m.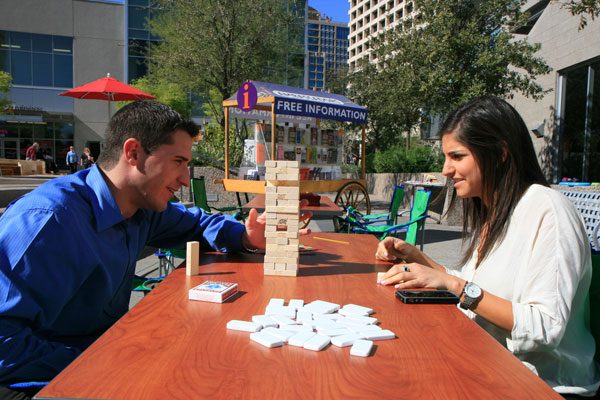 You can check out games like Scrabble, Jenga, and cornhole, or take a loan out from the lending library where books and magazines are also available, courtesy of the Downtown Phoenix Ambassadors. Filling out the picnic experience are lawn chairs, blankets and, yes, Frisbees. DJs William Reed and Sean Watson will provide the soundtrack every Thursday and Friday, respectively.
Scheduled to run through the spring, it's the perfect opportunity to take your sack lunch outside or stop by a nearby eatery for a bite to go.
If you go
What: Pop-up Park at CityScape
When: Monday through Friday, 11:00 a.m. to 1:00 p.m.
Where: Patriots Square (lending library is in the suite located east of Chipotle)
Who: Downtown Phoenix Ambassadors
Activities: Games, library books and magazines, DJ music
Cost: Free
For more information: cityscapephoenix.com.
---