(From the Wire includes press releases received from reliable sources that help tell the story of the many happenings in Greater Downtown Phoenix. Yep, they are ripped from our inbox.)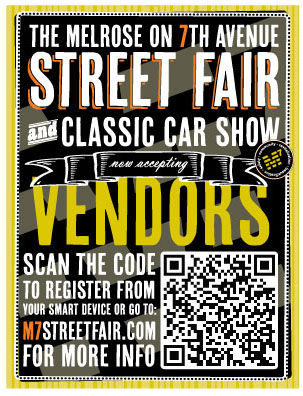 The 11th Annual Melrose on 7th Avenue Street Fair and Classic Car Show is seeking both food and merchant vendors.  The event will be held on Saturday, March 3rd, from 11 a.m. to 5 p.m. on 7th Avenue between Indian School and Campbell.
Originally consisting of a few six foot tables, a few dozen classic cars and a few hundred people, the m7 Street Fair has grown to over 140 booths, food, rides and crafts for the kids, live music and over 200 classic cars. In ten years this award winning event has become one of the most anticipated events of the year.
Organizers expect between 18,000-20,000 to attend.
There will be live music sponsored by Stinkweeds and Local First Arizona, a classic car show and the ONE Community Healthy Living Expo.
Visit M7StreetFair.com for vendor applications.
---