(From the Wire is a new feature for DPJ. This section will include press releases received from reliable sources that help tell the story of the many happenings in Greater Downtown Phoenix. Yep, they are ripped from our inbox.)
Arizona Theatre Company (ATC) is currently recruiting for its Volunteer program. As a non-profit organization, ATC proudly enlists the help of theatre lovers from around the state of Arizona to help support its mission of providing world class theatre to all members of the Arizona community.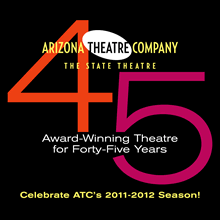 Immediate needs include administrative support during business hours, distribution of performance information, and concierge support at evening and weekend performances.
As a thank you for their donation of time and effort, ATC provides volunteers with a variety of special perks – including complimentary tickets to Arizona Theatre Company performances!
To volunteer for ATC in Phoenix, please contact Gary Edwards, at (602) 256-6899 x 6303 or gedwards@arizonatheatre.org. To support ATC in Tucson, please contact Jonathon Crider at (520) 884-8210 x 8201 or jcrider@arizonatheatre.org.
Arizona Theatre Company is a not-for-profit 501(c)(3) corporation and a constituent of Theatre Communications Group (TCG), the national organization for the American not-for-profit theatre. ATC is supported, in part, by funding provided by the National Endowment for the Arts, Arizona Commission on the Arts, Phoenix Office of Arts and Culture and Tucson Pima Arts Council. The 2011-2012 season sponsors are I. Michael and Beth Kasser.
For more information about Arizona Theatre Company visit www.arizonatheatre.org.
---