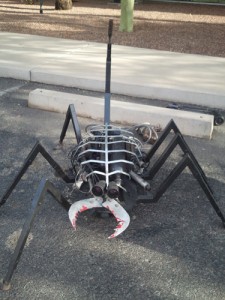 Where can one go in Phoenix to see flaming robots, a marshmallow chucker and the fastest human powered vehicle in the world?
Maker Faire, the world's largest do-it-yourself festival, is making its Phoenix debut Saturday. It will unite science, art, craft and engineering in the form of the more than 100 hands-on exhibitions.
"It's a noncommercial event designed to bring together people interested in learning to make things," says Phoenix Maker Faire Producer David Uhlman.
The creators of Make Magazine, a publication dedicated to providing information on DIY projects, started Maker Faire in 2006 in San Mateo, California. Uhlman has been pushing to bring the event to Phoenix.
Uhlman is the founder of Maker Bench, a local business that offers skills training, resources and work space for innovators and entrepreneurs who want to build things.
He is also a writer for O'Reilly Media, a company that disseminates the knowledge of innovators through online and print publications, research and technology conferences.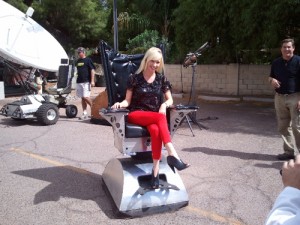 The Phoenix event, which is part of the third annual Phoenix Design Week's line-up, will showcase the work of a variety of people creating DIY projects, most of whom are from Arizona.
Uhlman says there are not many regulations for the projects but that there is an emphasis on interactivity and showing how the projects are put together.
He hopes the faire will inspire people to make things that interest them, but says it will also be a fun, family-friendly event for the community.
In addition to the exhibits, the faire will feature music, gourmet food trucks, and arts and crafts.
"Downtown has seen a lot in terms of revitalization," Uhlman says. "I think the faire will be a good fit and I think it's a good time to bring it here, and of course there will be flaming robots. You can never have too many of those."
If you go
Where: Roosevelt Row at Third and Roosevelt streets
Date: Saturday, October 15, 2011
Time: 11 a.m. to 7 p.m.
Tickets: $15 at the event or online at makerfairephoenix.com
---