(From the Wire is a new feature for DPJ. These include press releases received from reliable sources and help tell the story of the many happenings in Greater Downtown Phoenix. Yep, they are ripped from our inbox.)
Four legs are better than two when it comes to raising funds for 19 Valley-based HIV/AIDS service agencies in the 2011 AIDS Walk Phoenix & 5K Run on Sunday, Oct. 2 in Downtown Phoenix.
Dogs like Chloe, a mixed breed rescued from the street who was the "Top Dog" fund raiser last year, will do their part again this year to generate dollars for Paws For The Cause.
More than 500 good-natured, sociable dogs ambled alongside their owners last year, raising almost $18,000 (in addition to the $10 registration fee which includes an AIDS Walk bandana and a bag of dog treats). Chloe's fund-raising efforts produced $3,321.00.
This year's Top Dog also earns the Glamour Dog title as the poster dog for next year's PAWS poster.
"Paws For The Cause really motivates some dog owners. It's quite the competition to see which dog can raise the most. And dogs are so important in our lives and in the lives of more than 400,000 men and women with HIV and AIDS who own dogs," said Mike Oleskow, 2011 Paws for the Cause chair. "Scientific studies show the positive impact that dogs can have in lowering anxiety, reducing blood pressure and preventing depression compared with HIV-positive pet owners who do not own pets."
Dog owners registering for the event at also have access to resources to create fund-raising posters, cards and web pages to generate pledges. And rankings are constantly updated so everyone can see which pooches are in the running for 'Top Dog'.
In addition to the Walk, there is also a 5K run (without pooches). The 5K run begins at 9 a.m. immediately preceding the Walk.  Medals are awarded to the top three men and top three women finishers in six age categories.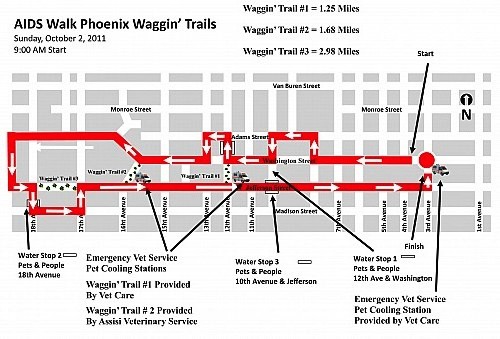 Walkers (and their dogs) and runners can register at www.aidswalkphoenix.org.  Registration fee for walkers is $25 with resources in place to help participants raise additional fund through pledges. Early registration fee for runners is $30.  Children 12 and under walk for free.
Phoenix Mercury executive Bridgett Pettis and Jonathan Robles, board chair for Concilio Latino de Salud, Inc., are co-chairing the event.
Teams and volunteers also are being sought. Registration can be completed on the website.
Walgreens is the event Title Sponsor. Sonora Quest Laboratories, Phoenix New Times and Cox Communications are the Presenting Sponsors.  Additional sponsors are listed below.
Co-chair Pettis has spent more than a decade as a player, front office executive and coach with the Phoenix Mercury. An original member of the Valley's WNBA team, she played in a club-record 154 consecutive games from 1997-2001. Robles, an Arizona native, also is the director of the Title V grant funded by the United States Department of Education at Estrella Mountain Community College. Concilio Latino de Salud, Inc. is a non-profit agency focused on health education, cultural competency in health delivery and promotion, and disease prevention in the Hispanic community.
Benefiting agencies are: 1 in 10, Agape Network, The Bill Holt Clinic at Phoenix Children's Hospital, Chicanos Por La Causa, Compassion in Action, Concilio Latino de Salud, Ebony House, Heal International, HIV/AIDS Law Project, HIV Care Directions, Joshua Tree Feeding Program, Inc., McDowell Healthcare Center, Native Health, The Phoenix Shanti Group, Project Hard Hat, Southwest Behavioral Health Services, Southwest Center for HIV/AIDS, Terros and UCAN, Inc.
If you go
What: AIDS Walk Phoenix & 5K Run
When: Sunday, October 2nd (Registration opens at 7:00am)
Where: 3rd Ave and Washington St
Cost: Registration costs vary (Go to www.aidswalkphoenix.org for full information)
---