I'm not very good at digital introductions, but here it goes. It's me, Jason Garcia, the Art Director for Downtown Phoenix Journal. Woohoo! Clap clap clap! *crickets* Pleased to blog for ya! I also serve as one of the photographers at DPJ who captures images of our fair city, its people, culture and businesses.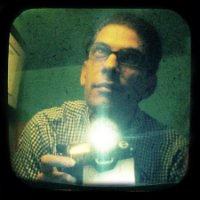 Why am I blogging, you ask? Well, for starters, we here at DPJ would like you to know a little bit more about our staff of writers, editors, designers and photographers. Expect to hear what it takes to bring photos from the camera to the print product, and a few things in between. I'll tell ya what I like to shoot, how I shoot it and whatever else I can think of.
The rundown on why my camera is a growth on my hand: I've been taking photos for about 25 years and have had the opportunity to shoot some amazing people, places, events and the like. Growing up in San Diego, I enjoyed shooting sunset photos over the Pacific Ocean, punks skateboarding, rock & roll shows, and whatever else crossed my eyes. Yeah, back when I was a teenager, I was that dork at the show, right in front of the band, camera in hand, with my flash blazing away. Annoying? Yes. Killer photos? Yes. I have learned so much about what the viewfinder sees and how to take an emotional photo. I still remember my instructors… "Remember your rule of thirds!" and "Your depth of field isn't very good. Make it better."
I moved to Phoenix in '94 and until seven or eight years ago, everything was 35mm for me. I used my trusty Minolta X-7A until it died, so picking up the latest digital Canon and Nikon SLR was a dream come true. From there, I began shooting portraits and editorial style photos for Valley skin care companies, numerous events, products of all kinds, and of course, rock & roll shows. Needless to say, it has been a great ride.
The latest stop on this trip is Downtown Phoenix Journal. Not only do I get to hit amazing restaurants to shoot food and drinks, and visit people and their homes on interviews, but I also have the pleasure of capturing images of buildings that make up our city's skyline. Learning about all these people and places is equally fab.
I have a number of things to show and tell you, so stay tuned and check the DPJ blogs often.
---