When a band opens up for major bands, it's either hit or miss.
So when a small band from Louisiana opened up for Dirty Projectors and is now listed on the Sasquatch Festival bill, well that definitely raises some eyebrows.
Givers is a five-piece band made up of a group of friends that were brought together closer for their love of music.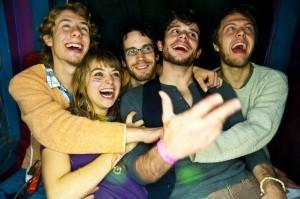 Tiffany Lamson (lead singer and percussionist), Taylor Guarisco (vocals, guitar), Kirby Campbell (drummer), Josh LeBlanc (guitar) and Nick Stephan (flute, saxophone, keyboard) are the young members of the band.
Their quirky cute story starts off with the five members improvising in several different bands around Lafayette. It wasn't until they started jamming together that Givers was started to form.
The band was invited to play a show, went through iTunes, found a song named "Givers" by Little Dragons to slap on the bill, and have been playing since.
The band has been recognized as one of South by Southwest best rock acts, "Best of What's Next," "Band to Watch" and Must-Hear Artist of Sasquatch.
So more red flags on why you should check out this band.
They are full of energy, Afrobeat style clapping and synth-pop which is borderline Passion Pit/Animal Collective style.
The group has released an EP in 2009 and is working on a full-length coming out early next week, In Light.
Download their song "Up Up Up" to get you up up up in the morning or when you just want to dance.
They'll be playing at Trunk Space this Saturday for a whooping $12 at the door.
---