The Slideluck Potshow has come a long way from its humble beginnings in a Seattle backyard a mere 10 years ago. Over the past decade the event has spread to 40 major cities of the world including London, Mexico City, San Francisco, Barcelona, Paris, and Chicago. On April 30, 2011 the Slideluck Potshow will bring together artists, food lovers, and everyone in-between at The Icehouse in Downtown Phoenix.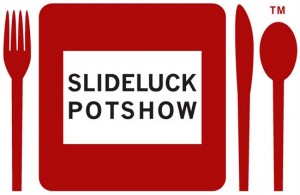 The Slideluck Potshow grew out of Seattle to become a New York-based, non-profit organization that strengthens communities through food and art. An essential component of the Slideluck Potshow is mixing things up, as indicated by the name of the event which is both potluck and innovative slideshow.
The goal is to connect the general public with artists, ideas, and cultures in a relaxed, eclectic environment where attendees can make new friends, enjoy home-cooked food, and celebrate the accomplishments and creativity of the local arts scene. Local artists are given five minutes to present their work in the slideshow which is combined with music, interviews and also includes work from renowned artists.
Past contributors to Slideluck Potshows in other cities have included the Guggenheim Foundation as well as artists like Chuck Close and Spencer Tunick.
Tickets are only ten bucks for an evening of great food, great art and the chance to meet and mingle with Phoenix locals in a beautiful, historic downtown building. The potluck begins at 7 p.m. and attendees are asked to bring entrees large enough to serve 6 or more people.
When creating your culinary delight, support local business and use ingredients from the Phoenix Public Market: according to the Slideluck Potshow website, doing so will get you $5 back at the door. Washing and keeping track of large dishes may be difficult, so try to bring food in recyclable disposable containers but don't worry about plates and utensils, those will be provided for the picnic style dinner. The lights will be dimmed at 9 p.m and the spectacular slideshow will begin.
When the event ends at 11 p.m., Phoenix will be counted in good company with other cities that have hosted the Slideluck Potshow. The debut of a world famous event in Downtown Phoenix shouldn't be missed.
---