Last weekend sold out in minutes. And though walk-ins were still accepted, it was a packed house on both nights.
Cycle's next shift this weekend brings a new food truck, a new mixologist and no reservations needed—for anything, at anytime.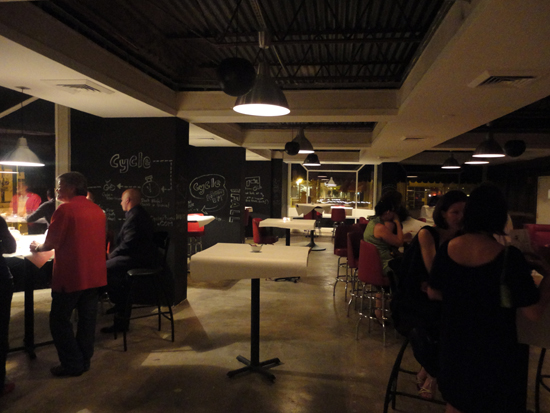 Selling their signature, hulky sandwiches, each for $9, Phoenix Cheesesteak Company will be in full command of the food menu. Cheesesteak options exist in the form of the "Westside," "Phoenix" and the more classic but equally tongue-in-cheek "Not From Philly," with chopped ribeye, charred onions and peppers, all glued together with a spread of trusty (cheese) whiz.
Then behind the bar — the "Biker Bar," as it's playfully labeled — the first in a procession of planned bartending masters and mixologist MVPs will emerge: Micah Olson. Co-creator of cocktail consulting firm AZ Mixology alongside equally idolized Jason Asher (both of whom met while working side by side during past lives at Sanctuary Resort's storied Jade Bar), Olson will be gunning a customized, enthusiastic range of distinctive cocktails.
With a love for resurrecting the time-tested bones of classic cocktails and polishing and tweaking them for modern audiences, Olson is known for his loyalty to the craft, preferring juices just squeezed, headstrong herbs, studied lines of booze and a heavy respect for the effective might of bitters. Measured and exacted, it's the science of perfectly constructed, boozy beverages, and we're all the more lucky to have any opportunity to taste.
Beyond a few extra surprises, to be sure, Olsen has tailored a gifted list of five different options. The full drink menu is now available on Cycle's website.
Cycle is open both tonight and tomorrow night for happy hour from 4 to 6 p.m., dinner from 6 to 10 p.m., and the bar operating at full steam until 2 a.m.
Cycle is located inside the Lexington Hotel at 1100 N. Central Ave. (light rail at Roosevelt station) — 602.252.2100.
[iframe_loader src="http://maps.google.com/maps?f=q&source=s_q&hl=en&geocode=&q=1100+n+central+ave,+phoenix,+az&aq=&sll=37.0625,-95.677068&sspn=34.724817,79.013672&ie=UTF8&hq=&hnear=1100+N+Central+Ave,+Phoenix,+Maricopa,+Arizona+85003&ll=33.461127,-112.073958&spn=0.006265,0.00912&z=16&iwloc=A&output=embed"]
---