The Central Phoenix community lost a dear friend this past weekend when Jane Reddin, founder of Practical Art, passed away following a battle with leukemia. Reddin, whose passion for locally made, handcrafted, artisinal works radiated throughout the walls of the Uptown store, will be missed by art buffs, neighbors and customers alike.

Below is a statement from Lisa Olson and Kara Roschi, who took over the day-to-day operations of Practical Art earlier this year. The store will remain in business according to Reddin's wishes.
— DPJ staff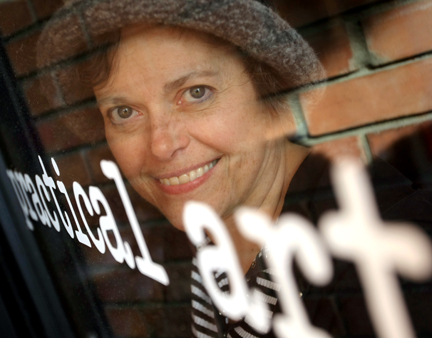 Hello, Everyone:
We wanted to let you know that Jane Reddin, our good friend and the founder of Practical Art, passed away on February 6 after a long and hard-fought battle with leukemia.
We know this message will reach people who knew Jane in a variety of contexts—as family, friend, lawyer, board member, community advocate, volunteer, environmentalist, art enthusiast, and through her vision here at Practical Art. Whatever your relationship with Jane, we know that any life she touched will greatly feel her loss. The central Phoenix community that she lived in, worked in, spent her time in, and greatly loved, feels much emptier today. We miss her terribly.
In April 2010, Jane was diagnosed with leukemia and was admitted for treatment at Phoenix's Good Samaritan Hospital. In July, she moved to a Dallas-Forth Worth facility near her sister, Patty, and received a bone marrow transplant from her brother, Jim. Jim came from New York to Texas to make both the initial donation and a second donation, made in November in an attempt to get Jane into remission a second time. Jane was released to her sister's home with an optimistic prognosis, but some negative test results placed her back in the hospital where she fought this disease with the positive attitude and strength that were characteristic of her. We were fortunate to visit Jane in November and found her as determined to battle as ever.
At the turn of the New Year we were all still hopeful Jane would return but Jane, ever the realist, decided to transfer ownership of Practical Art to us. We had been at the helm since her hospitalization and she wanted to have the business continue if at all possible even if she did not recover. Despite her strength and the outstanding support of those near and dear to her, we lost Jane on February 6. We will be doing all in our power to operate Practical Art as a living memorial to her.
Particulars on services are still being determined. We will update you on details as soon as we know them. The family has asked that, in lieu of flowers, donations be made in Jane's honor to the Leukemia and Lymphoma society: http://www.lls.org/hm_lls
We will be here at the shop for our regular hours and we would appreciate it if you would come by and remember Jane with us. It feels right to be here, in this space that she created and filled with her hard work, passion, and spirit. It will comfort us to share memories with you, our (and her) friends. Our lives were impacted immeasurably by this amazing and dynamic woman. We will always be very, very grateful for the time we were able to spend with Jane even if it was cut short far too soon.
Lisa Olson and Kara Roschi
---