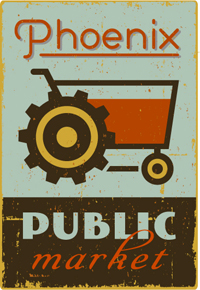 Market Updates
The Urban Grocery & Wine Bar's new hours (including a full breakfast menu) debuted on Tuesday. Now enjoy the market starting at 7 a.m. Tuesday through Saturday.
With the fall weather arriving, the Saturday market will be open an extra hour through the springtime. Come enjoy Phoenix Public Market every Saturday until 1 p.m.
Weekly special: $2 off of any six-pack of Mendocino White Hawk IPA or Jamaica Red Ale (or $1.50 per bottle of each).
T-Day special: Stop in to the Urban Grocery & Wine Bar on Thursday for 30% off any flavor of Crave ice cream in celebration of the Urban Grocery's one-year anniversary.
Wednesday @ the Market
It's trucks galore at the market: Truckin' Good Food, Riteway Catering, Paradise Melts, Torched Goodness and Short Leash Hot Dogs will all be serving up tasty treats from 4 to 8 p.m. Dirty Bird Soaps, Nakia's Kitchen, Relish This and Especial Tuna will also be outside, as well as the usual bevvy of fresh produce and herbs. In the Urban Grocery & Wine Bar, try wines from Canelo Hills, Rancho Rossa and Oak Creek Vineyards.
Saturday @ the Market
Live music by Pacha returns, along with the debut of Cave Creek's JH Grassfed Beef. As well, Dr. Michael Soloman, D.C., will be on hand giving stress screenings, Nuna's Flavors will offer a selection of dressings and marinades and Queen Creek Olive Mill will bring a selection of oils and olives — there is something for everyone!
If You Go: Phoenix Public Market and Urban Grocery & Wine Bar
Urban Grocery and Wine Bar: Tuesday to Saturday 7 a.m. to 8 p.m.
Open-Air Market: Every Wednesday 4 to 8 p.m., every Saturday 8 a.m. to 1 p.m.
Location: 721 N. Central Ave. (market) / 14 E. Pierce St. (grocery) (NE corner of Central and Pierce, three blocks south of Roosevelt and the Roosevelt light rail stop!)
Free parking —  MasterCard, VISA, AZ FMNP, WIC Cash Value Vouchers, and food stamps accepted (cash is also welcome!) Sun Cards are welcome, too!
---