DPJ is proud to bring you the best Yelp reviews of your favorite Downtown restaurants, boutiques, venues and everything in between. Every week, visit DPJ for a finely crafted, tell-all account of a Downtown spot straight from the experts: the people!
Amber W.
Phoenix, AZ
Five-star rating
07.12.10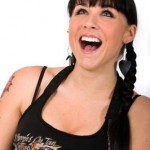 As far as I know, I'm the only person in this town that has a dish named after them. I could be wrong, but I'm pretty sure I'm right. I mean, I'm always right.
By now, if you read my reviews, you know that I am vegan and I don't eat gluten. This makes dining out quite an issue at times, especially for breakfast/brunch.
I really wanted to hit up The Vig Uptown for brunch because I like it as a happy hour spot, the space is incredible, it is within a bike ride from my house, and I love the Original Vig, but alas, there was nothing on the menu to accommodate me. I gently mentioned in person and a few times on Facebook that having some sort of tofu scrambler would really improve their menu.
They listened. They created. They named. (after me!!!)
We stopped by for brunch this past Sunday for the dish's debut, and got a personal hello from Tucker. He was excited because they had already sold TEN AMber Scramblers that morning and it isn't even officially on the menu yet! I'm already a star!
So, whats the verdict on the AMber Scrambler? Amazing. Seriously. The thing that really sets this apart from other scrambler dishes is sun dried tomatoes. They bring such a delicious flavor! It certainly doesn't hurt that it comes with their signature guac and a side of pico.
I'll be here every weekend for the delicious dish and the $5 fresh squeezed mimosas! If you know whats good for you, you will, too.
The Vig Uptown is located at 6015 N. 16th St. in Uptown  — 602.633.1187

The DPJ Yelper of the Week offers honest insight on a Downtown business to help you explore your core. DPJ hopes that by partnering with Yelp to spread the good word about well-loved Downtown spots, you'll spread your patronage and support local business.
Yelp is a social networking and local search engine that provides the reviews of places and things that matter to you. Simply log in, pick a place and queue up your inner critic. You can write a beaming review of your favorite gelato spot, or a scathing portrayal of that rental car facility you had to use after that curb came out of nowhere. Yelp's reviews are at once honest, uncensored, wildly hilarious and true. Heck, the site must be doing something right — it had 26 million viewers just last month!
---