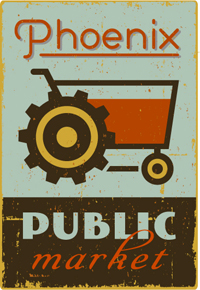 Wednesday @ the Market
It's an all out war between French crepes vs. crème brûlée at Phoenix Public Market's Bastille Day celebration!
Torched Goodness will be competing with their torched-to-order crème brûlée, while in the other corner, Truckin' Good Food will fight with their "My First Time" nutella crepes.
You be the judge at 4 p.m. and decide the winner! With your choice, you will be entered into a raffle for a bottle of champagne to wash down your mouth-watering dessert.
Also, a free wine tasting is from 5 to 7 p.m. in the Urban Grocery & Wine Bar, featuring Keeling Schaefer Vineyards.
If neither of those has you running, then Short Leash Dogs will with their gourmet hot dogs, lemonade and icees, and Chef Wade will be grilling some Double Check Ranch burgers and veggies!
If you Market-goers haven't gotten your CSM cards, think again.
Discounts this week include 75 cents off Cake Pops (aka Red Velvet Cake on a Stick) and 50% off of prepared salads from the deli case.
Saturday @ the Market
Get the grill all fired up with Beefalo all the way from Wyoming and Hartill Enterprises, chicken from Troyer Poultry and beef from Double Check Ranch. You can add to your plate a serving of fresh sweet melons and peaches from Abby Lee Farms.
Give to a good cause at the Market with Market vendor Orlando Zapata from Wei of Chocolate, who has created a summer donation drive for several local domestic violence shelters. There will be a donation box located near the front door of the Urban Grocery.
The Market is looking to donate:
Kitchen and bath items: cleaning and paper products, small appliances, utensils, dishes, shampoo and towels
Toiletries: deodorant, shampoo, lotion, toothpaste, mouthwash, tooth brushes, soap and razors
Baby supplies: baby food and formula, teething rings, bottles, pacifiers, bathing items, diapers, wipes, lotion and powder, toys and bibs
Giftcards for gas, groceries and home goods are also accepted.
Anything and everything counts, so give to those in need.
If You Go: Phoenix Public Market and Urban Grocery & Wine Bar
Urban Grocery and Wine Bar: Tuesday to Friday 11 a.m. – 8 p.m., Saturday 8 to 8.
Open-Air Market: Every Wednesday 4 to 8 p.m., every Saturday 8 a.m. to noon.
Location: 721 N. Central Ave. (market) / 14 E. Pierce St. (grocery) (NE Corner Central and Pierce, three blocks south of Roosevelt and the new Roosevelt light rail stop!)
Free parking —  MasterCard, VISA, AZ FMNP, WIC Cash Value Vouchers, and food stamps accepted (cash is also welcome!) Sun Cards are welcome, too!
---