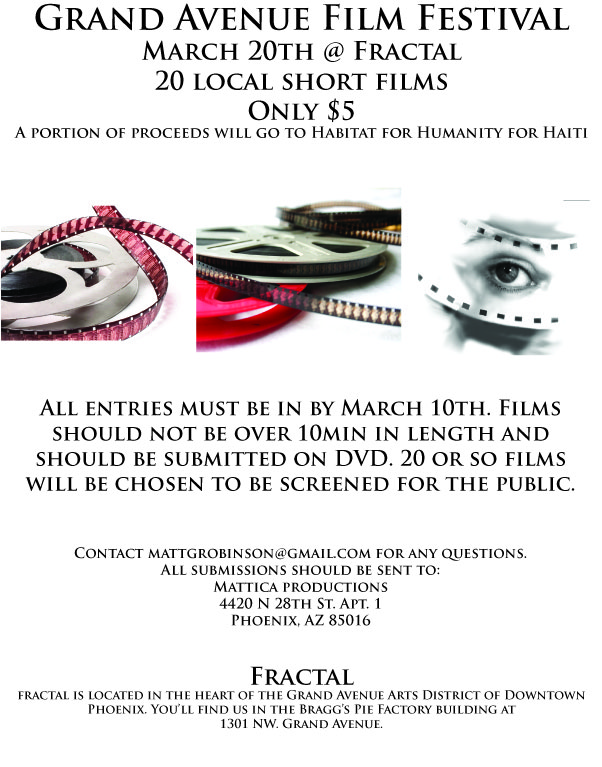 On March 20, Fractal, located in the Bragg's Pie Factory building on Grand Avenue, will host home to the first-ever Grand Avenue Film Festival. The event will showcase 20 or so short films by local filmmakers with proceeds going to Habitat for Humanity.
The fest is being organized and promoted by local filmmaker Matt Robinson. Robinson went to film school and Scottsdale Community College and currently works at ASU as a videographer. Previously, Robinson helped co-run Free Sushi Records, where he helped book bands and promote shows.
Robinson decided to put together a film festival as a way for upcoming filmmakers to get their work out to the public. He feels that beginning filmmakers don't have much of an outlet for their work. "They go up on Vimeo, and then that's it," Robinson says. "That's literally it, and it bugs me. It's too often that there's never a chance to show your film or something you made and talk to people that watched it, like an audience."
The two film schools in town, SCC and ASU, each have their own film fests; however, those are for students to attend, and they frequently require entries to come from second-year film students. Unfortunately, not everyone who wants to make a film is a student. "The film festival at SCC is great," Robinson admits, "but that stinks for all the people that aren't at SCC."
When asked about the main goal of organizing the event, Robinson states, "Grand Avenue Film Festival is really just an opportunity to give people I know and filmmakers a chance to get an audience."
Even students that attend film school rarely get the chance to get a response from a general audience. "There's nothing more honest that an audience's reaction," says Robinson.
The fest is scheduled to begin at 7 p.m. on Saturday, and will cost just $5. The films will run a little over an hour and time will be allowed after for people to mingle and talk to the filmmakers about their films. Audience members will get to vote on their favorite film, as an audience award will be presented.
---