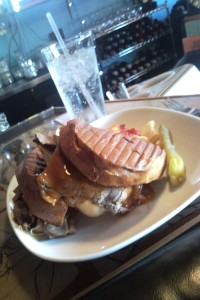 Alright faithful Sips and Grub readers, I have a confession to make. Brace yourself, but I have been to Carly's before. OK, I've been there a lot. This tends to happen when it is only a few blocks from my front step. I don't normally eat there, though. Normally I darken their doorway for one reason: their willingness to sell PBR and Sessions Lager for $2. What can I say, I am easy to please.
So, this venture was cause for a more serious focus — my growling stomach. I had long heard tale of the Carly Q: warm roast beef drowning in special barbecue sauce on an onion challah roll with cheese. Whew. Just writing that part made me hungry again.
Carly's sits right in the middle of it all, across the street from Revolver Records, just downwind from Modified Arts and a hop, skip and jump from Monorchid. So, it stands to reason that you might have heard of the place.
I mosey up to the bar and slide into my comfy seat. The place is artsy and inviting from the moment you cross the threshold; you're embraced by hip artwork and even hipper company. In my previous experiences the barkeeps were all noticeably friendly. This time didn't disappoint. The lovely lady behind the cartoon-laced bar was eager to slide me a drink and crack the whip on the kitchen to get out my order.
I'm going to admit that you guys almost didn't get a picture of this meal because I was hellbent on devouring it when it arrived. The barbecue sauce was pouring from the sandwich, just mocking me that I would have it all over my face before I was done. The warm roast beef was thickly sliced and roasted to perfection. To top it off, the cheese was melty and delectable. I'm not sure that I have ever had a barbecue sandwich like this one. After ravenously consuming it and needing second and third rounds of napkins, I had conquered the Carly Q. I felt that the feat was deserving of a shirt, but the satisfaction of quieting my rumbling tummy was prize enough.
So, make sure you hit up Carly's for one of the best barbecue sandwiches around. I might be in the corner sipping my PBR. Be sure to say hello.
Carly's is located at 128 E. Roosevelt St. in Evans Churchill — light rail station at Central/Roosevelt. 602.262.2759
---