Tis the season of resolutions, so I felt it necessary to trek up to Luci's Healthy Marketplace.
Since I was a little under the weather, probably from the early stages of post-holiday blues, I decided that this week was perfect for some healthiness. Also, it is definitely time to start establishing your list of resolutions, and eating right is always a good start.
Sitting on the corner of 16th Street and Bethany Home Road, a place like Luci's is definitely in the far reaches of Uptown, but we can make an exception.
From the moment I entered, I was greeted and welcomed warmly. This place knows how to hire people with sunny personalities. Not the "oh-crap-here-they-come-again" kind of friendliness, but the welcoming kind. Every employee was willing to help me find something that would make me feel better. It was refreshing to be here from the get-go, and I had not even decided what I would eat. Hospitality does not just reside in the South.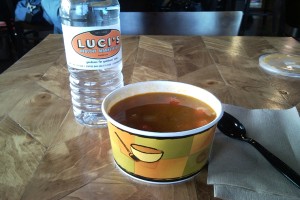 I selected the Harira soup after it received high praise from one of the friendly faces behind the counter. So, I walked over to the coffeebar counter and poured my soup and exchanged delightful conversation about the weather with the attendants there. This place definitely has a home feel to it.
Once I was seated in the cozy dining area, I began to admire the décor. Huge, retro signage adorns the place, but not in an overbearing way. Luci's collects itself in a quiet cool that resonates in its every aspect. From the friendly staff to the unique wooden tables in the dining area, this place has it together.
From the first sip of the Harira soup, I was warm. A Moroccan soup in origin, this stuff is a meal in itself. Packed with beef, chick peas, lentils, onions, carrots, tomatoes and potatoes, this is one hearty and filling broth. Every bite was soft and delicious. I was unwilling to put my spoon down until it was finished. All I could do was stare sadly at my empty bowl once it was gone.
The warmth of my visit is still sitting very well with me. Any place that can make you long to return for both friendliness and cuisine is a winner in my book.
Luci's Healthy Marketplace is located at 1590 E. Bethany Home Rd. in Uptown — 602.773.1339
---