DPJ is proud to bring you the best Yelp reviews of your favorite Downtown restaurants, boutiques, venues and everything in between. Every Tuesday, visit DPJ for a finely crafted, tell-all account of a Downtown spot straight from the experts: the people!
Allison B.
Tempe, AZ
Five-star rating
10.06.09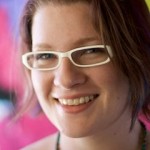 Love love love this place.
My hair is always looking fabulous when I leave here, and everyone involved at this salon is highly skilled, compassionate, and friendly.
Whether you're going for a run-of-the-mill cut, or you want blue hair, there is someone there who can fulfill your needs. Plus, they're open until 9pm!!! No excuses, get your hair done. They also have a lot of cute things to shop for in the front of the salon. Plus, the bathroom rivals some of the greatest in the P-H-X. Can you say chalkboard walls? Yes, Hair Pollution wants to know your inner most thoughts about life, love, and scary movies.
Samantha, my stylist, is an expert colorist. She also so does an amazing cut, that can grow out a little, and not look too funky. Stretches the dollars a bit too! (Thanks Sam!) She will tell it like it is, so you don't end up with orange hair….unless you wanted that kinda thing.
Be sure to say Hi to the owner Tad, who is a wonderful human being. Find him in a cowboy hat most days, rockin' a couple of fab sleeves (the tattoo kind ppl). Um, they also have free soda, lots of great art books to peruse while your hair is "cooking" and the people watching is second to none.
There are a lot of stylists at Hair Pollution, my advice is to talk to the lovely lady at the front and ask her opinion (it is worth its weight in gold, trust me) on the best stylist for your needs. Don't expect to pay $20 for a cut here, but you also won't be dropping Scottsdiggity scrill either. You get what you pay for, so commit to looking fabulous, and make it a budget priority.
Hair Pollution is located at 1524 E. McDowell Rd. near Coronado. (602) 258.8600
The DPJ Yelper of the Week offers honest insight on a Downtown business to help you explore your core. DPJ hopes that by partnering with Yelp to spread the good word about well-loved Downtown spots, you'll spread your patronage and support local business.
Yelp is a social networking and local search engine that provides the reviews of places and things that matter to you. Simply log in, pick a place and queue up your inner critic. You can write a beaming review of your favorite gelato spot, or a scathing portrayal of that rental car facility you had to use after that curb came out of nowhere. Yelp's reviews are at once honest, uncensored, wildly hilarious and true. Heck, the site must be doing something right — it had 25 million viewers just last month!
---