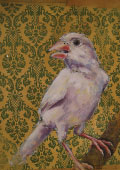 Meet artist Layla Luna on Friday, August 7 at a free reception beginning at 7pm at Practical Art, 5070 N. Central Ave.
View nine original paintings and more than 30 sketches, all capturing a wild variety of wonderful birds, while you enjoy wine and cheese.
An aviary is a large enclosure for confining birds. Unlike cages, aviaries allow birds a larger living space where they can fly. New work by local painter and mixed media artist Luna explores the relationship between environment and subject by her careful studies of birds in various environments. This show studies the artist's conversation between and untamed subject and a highly domesticated setting.
Luna's work will be on display through the month of August.
For more information, visit www.practical-art.com or call 602-264-1414
---