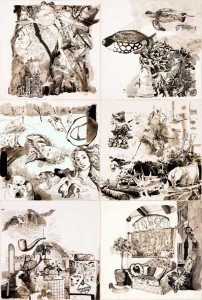 Modified Arts is pleased to announce the opening reception for artist Carolyn Lavender  Friday March 20th from
6-9 PM.
Phoenix artist, Carolyn Lavender, will be showing the current pieces in her "Journal" series.  These paintings are based on collages done in her personal journals, which she as been keeping since age 14. The acrylic paintings are a stream of consciousness in imagery that represent Lavender's gaze when it comes to the proliferation of imagery available today.
Lavender has been actively showing since 1992.  Some resume highlights include the 2004 Arizona State University Art Museum show "Democracy in America", the 1995 and 2007 Tucson Museum of Art Biennials, and the "Group Show of Strangeness", Durex Arte Contemporanea, Rio de Janeiro, Brazil. Public collections include: ASU Art Museum Print collection, Mesa Contemporary Arts, Tucson Museum of Art, City of Glendale, City of Mesa, City of Phoenix Municipal Print Collection and Shemer Art Center.
The show will hang through April 11th.
Your guide as you Explore Your Core.
---