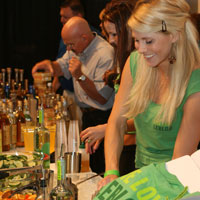 West of Western Culinary Festival, an annual culinary event bringing together Arizona's most renowned chefs for a weekend of fine food, education and entertainment, announced today its blockbuster lineup of participating chefs and scheduled programming.  Held at Phoenix Art Museum March 14 & 15, this multi-sensory affair offers an impressive array of fine wines, signature dishes, stunning works of art, live musical performances and chef-lead cooking demonstrations. The highlight of West of Western is the Chefs' Invitational Grand Tasting, an unparalleled gathering Arizona's top executive chefs, chefs de cuisine and pastry chefs.  Set outdoors in Phoenix Art Museum's lush Dorrance Sculpture Garden, West of Western chefs work with their crews to prepare entrees "al fresco".   Festival guests have unprecedented behind the scenes access to the chefs and can ask questions about techniques and ingredients.  The 50 participants are selected for their excellence and innovation in the culinary arts and come ready to impress with trend-setting specialties.
Inside the Museum festivities continue.  The Great Hall hosts The Wine Table presented by Whole Foods Market, a wine connoisseurs' paradise of dozens of labels from around the world, and for the first time chocolate confections by half a dozen of Arizona's finest Pastry Chefs and Chocolatiers, paired with wines poured by West of Western sommeliers. In addition, Whole Foods presents a savory section of cheeses selected for their ideal pairing with wine.
Presentations by local and national food and wine experts, cooking demonstrations, live music and docent lead tours of Phoenix Art Museum complete the experience.
"This year's line-up of chefs and programs will not disappoint," commented Scott Andrews, Director of West of Western Culinary Festival.  "Several talented and highly-regarded chefs have joined the festival including Joshua Herbert of Posh, Brian Peterson of Cork, John Sharpe of The Turquoise Room and Patrick Peeters, formerly with the much acclaimed Barry Callebaut Chocolate Academy and now owner of Peeters Belgian Pastries & Chocolates."
"It is very rewarding to see the festival grow each year," commented David Johnson, West of Western Wine Director. "The public continues to engage in the contemporary cuisine that is bringing national recognition to Arizona restaurants and chefs.  West of Western provides a wonderful opportunity to have these innovative Arizona dishes paired brilliantly with international wines and spirits."
General admission to Phoenix Art Museum is included with Festival tickets.   West of Western will be held on the opening weekend of In Contemporary Rhythm: The Art of Ernest L. Blumenschein. This major retrospective, the most comprehensive to date, showcases more than 60 paintings and studies that demonstrate why Blumenschein is one of the most accomplished, successful, and innovative painters of the 20th century.
What: West of Western Culinary Festival
When: March 14th & 15th
Where: Phoenix Art Museum
Cost: Tickets Available Here
Your guide as you Explore Your Core
---